Reliable
2 paths of MPEG 4 HD/SDI Satellite Truck & experienced EFP video crews await your call
24/7 365
AND SO IT IS.
When they say its the season for production they mean it. Feels like this month has been non stop with uplinking and exciting video production projects for CCU and its crews. Besides the long awaited 5th season of successful High School Football coverage, CCU has been doing everything from webcasts to corporate video shoots to SMT's to VM World to FIRE coverage
for major networks. WHOA.

Guess the flow is on and as always were proving that we have what it takes to provide the bay area and beyond with the RELIABLE & AFFORDABLE professional productions that our long list of awesome clients deserve.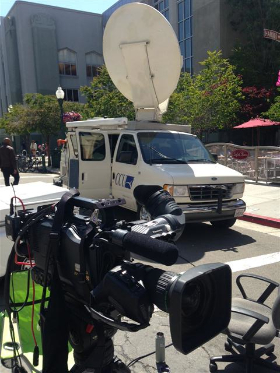 Thanks everyone from clients to crews for stepping up to the proverbial plate and doing an awesome job. Feeling very supported by my clients, community and recognized for all our hard work.
THANK YOU!.
——————————————————–
YES! you heard right. SUPER BOWL 50 Is coming to town.
Let CCU help you plan your production and satellite needs for this monster event. PLEASE get ahold of me right away if you want to inquiry US now for all your satellite or EFP needs during what I'm sure will be a busy time for all the local crews and trucks here in the Bay.
Dates are February 7th 2016 at Levi's Stadium.
Hope every ones summer has been filled with purpose and joy.
Remember, Life is NOT always all about "the next gig" but rather about challenging ourselves everyday, enjoying what we do, spending time with family and friends and living the good life as we all deserve.
CHEERS!