Its NOT only who who know.
They say it's all about who you know in this business that matters most. WELL.. I agree some what with that but its's ALSO about what the people you DO know have to say about you, your customer service and the experience they had working with you, that I believe really helps spread the word about what a client can expect at the end of the day
So in a effort to spread some of that satisfaction our clients have experienced here is a small sample of what some of Central Coast Uplinks recent great clients had to say about there production experiences with our experienced crews.
This came from Sumesh (Red Bull Media House)…. Randy was fantastic to work with.
Just wanted you to know you were loved….
Thanks again Randy the way you guys came thru as we had some twists and turns that were handled great by you and the entire crew !! Michael Farr- DS Simon
Randy has always provided high quality service and never says no to anything I have asked for. He is a dedicated worker and I would hire him anytime for providing my uplink service. Melodee Paul – LBI SAT
We've used Randy many times to help us with live shots when our own satellite truck is not available. He knows his stuff, hustles to get us our shots and is a pleasure to work with. SAT DESK CNN ATLANTA
and over 20 more recommendations on LINKEDIN.
These great reviews are the first hand testaments' that indeed without ANY doubt we do a exceptional professional job out there everyday for every client and what we at CCU strive for on YOUR next production. Must admit, There's something about being recognized for our commitment to quality that remind me that indeed I am living a live of purpose and integrity doing what I love for great clients, like you, that appreciate Central Coast Uplink's "above and beyond" efforts in the field.

THANK YOU EVERYONE
for creating the possibility for CCU to remain a proud, solid provider for for over 15 years for ALL your production needs.
FOR STARTUPS TO FORTUNE 100, INDIES TO NGOS, FROM $1000 TO $1,000,000+
EXPERIENCE
20+ years of producing, SATELLITE production, management and client relations
Video, Satellite, webcasting and event expertise
International expertise
Extensive corporate and non-profit experience
SERVICES
Video Storytelling: produce, write, interview, shoot, edit
KU HD satellite services
Production and Event Management
Crewing services
Technical Consultation
Resource Management
24/7 HD SATELLITE & EFP PRODUCTION SERVICES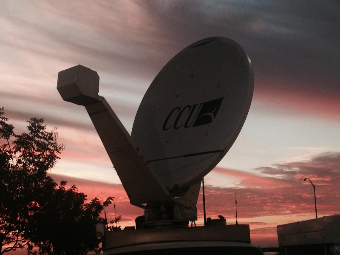 A HUGE reminder to ALL were still taking inquiries for
SUPER BOWL 50 !!
FEB 6-8th 2015
Santa Clara, Ca. (our home turf)
Satellite Trucks, EFP Crews,
MULTI CAM Productions.
YOU NAME IT.
CALL for a free quote TODAY.